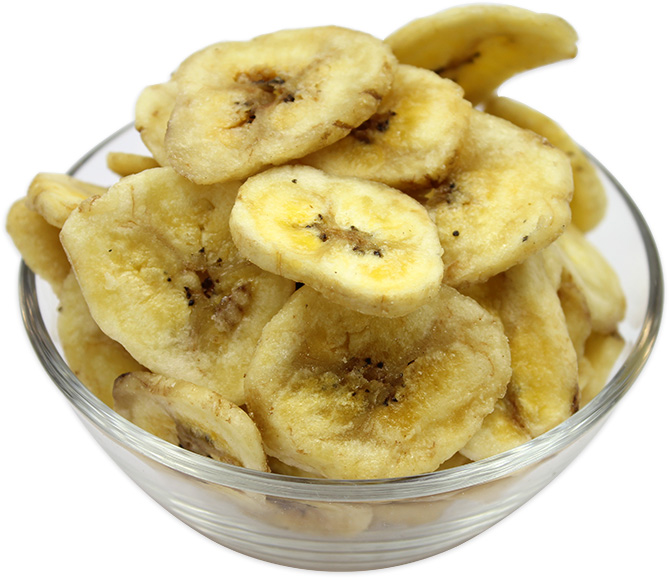 Banana Chips
Crunchy with crisp, sweet, golden banana chips sweetened. Banana chips can be used in a variety of ways, Top your morning cereal, oatmeal, pancakes, and waffles with banana chips for added crunch. Banana Chips are one of nature's best sources of potassium, healthy snack that can be used decorate baked goods, add texture to salads, and a delightful crunch to traditional cakes, pies, and homemade ice cream.
Health Benefits: We know bananas are incredibly good for us: high in fiber, potassium, and vitamin C. Remarkably, dried bananas are even healthier for you than the fresh variety. The drying process removes up to 96% of the water in bananas, leaving behind concentrated nutrients and vitamins.
Free shipping over €50
Big savings for larger quantities.
Spend €70 or more to get a 5% OFF Coupon for your next order.
% This product is VAT free.
WARNING: even though the farmers and manufacturers put all the efforts to remove the seeds, stones or foreign objects from the product, some may remain, therefore, it is your responsibility to check the product before consumption or production. We will not be held responsible for any damage incurred by any seeds, stones or foreign objects found in the product. ALLERGENS: packed in an environment that also handles nuts, peanuts, sesame, seeds, gluten, soy, milk and sulphured fruits.
Emma - Verified Buyer
Very nice quality for the price, crunchy and sweet flavour, all i can point out that it would be nicer to have a resealble bag as they can go stale quite quick.
Date: 23.09.2020
Nicole - Verified Buyer
The perfect crunch and a perfect alternative to chocolate when you want something sweet!
Date: 03.06.2020
Edwin Black - Verified Buyer
Great buy Quick delivery will buy again
Date: 13.05.2020
Fiona Hodges - Verified Buyer
Date: 15.01.2020
Ronan Daly - Verified Buyer
These banana chips are absolutely delicious and a nice healthy snack
Date: 28.11.2019
Jakub - Verified Buyer
I love these so much, very cheap for how much you get, plus they're made with Coconut Oil! So pretty good for you in moderate amounts
Date: 03.11.2019