Important: We have moved to new premises in Park West, Dublin 12 (for a full address go here). Our phone line is down until further notice, our apologies for the inconvenience. You can get in touch via email or our contact us page.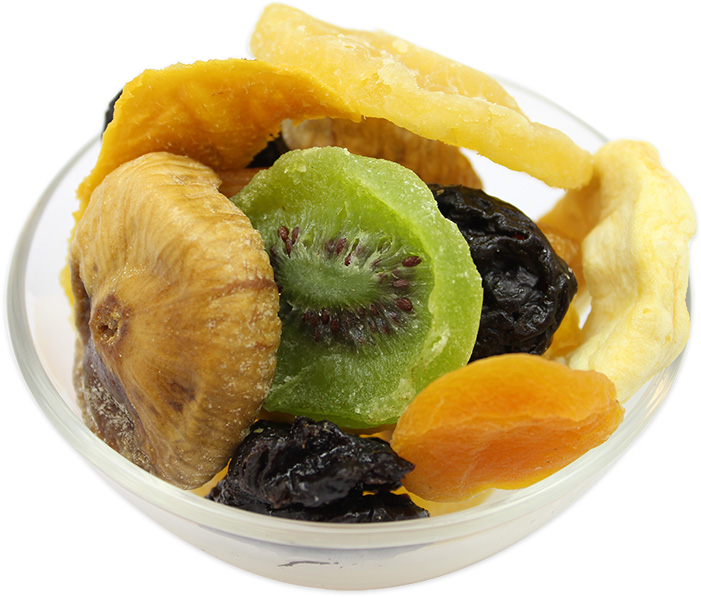 Healthy Mixed Dried Fruits
Dried fruit is fruit from which the majority of the original water content has been removed either naturally or through sun drying. Dried fruit has a long tradition of use dating back to the fourth millennium BC in Mesopotamia, and is prized because of its sweet taste, nutritive value and long shelf life.
Health benefits: Dry fruits are rich in monounsaturated fatty acids which make them ideal for weight loss and help burn belly fat. Research has also shown that daily consumption of dry fruits cuts the death risk by 20%. They are also known to control hypertension.
Free shipping over €50
Big savings for larger quantities.
Spend €70 or more to get a 5% OFF Coupon
% This product is VAT free.
WARNING: even though the farmers and manufacturers put all the efforts to remove the seeds, stones or foreign objects from the product, some may remain, therefore, it is your responsibility to check the product before consumption or production. We will not be held responsible for any damage incurred by any seeds, stones or foreign objects found in the product. ALLERGENS: packed in an environment that also handles nuts, peanuts, sesame, seeds, gluten, soy, milk and sulphured fruits.
Izabela - Verified Buyer
Date: 22.09.2021
Donie - Verified Buyer
Date: 09.10.2020
David Blackwell - Verified Buyer
Good broad selection, pineapple and kiwis are almost candied. Prunes sweet and delicious. Figs weren't as good as previous purchase in the mix. All in all a good sweet treat.
Date: 17.09.2020
Angela Joyce - Verified Buyer
Date: 07.09.2020
David C - Verified Buyer
Good variety of fruit, very sweet
Date: 14.05.2020