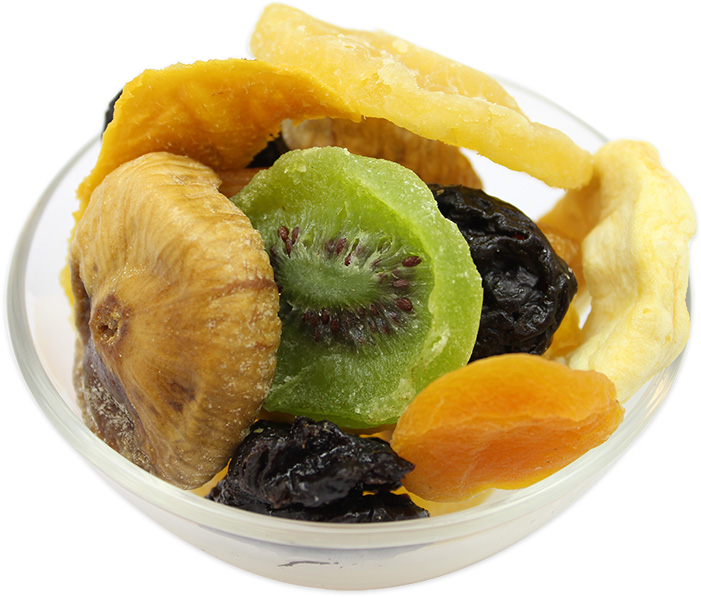 Mixed Dried Fruits
Dried fruit is fruit from which the majority of the original water content has been removed either naturally or through sun drying. Dried fruit has a long tradition of use dating back to the fourth millennium BC in Mesopotamia, and is prized because of its sweet taste, nutritive value and long shelf life.
Health benefits: Dry fruits are rich in monounsaturated fatty acids which make them ideal for weight loss and help burn belly fat. Research has also shown that daily consumption of dry fruits cuts the death risk by 20%. They are also known to control hypertension.
Nutritional Information (per 100g)
Energy

1082 kJ

From fat

0,36 g

Saturated

0,01 g

Sugars

29,27 g

Fibre

7,25 g

Carbohydrate

60,85 g

Salt

0,05 g
Ingredients
Dried apple, dried pineapple, dried kiwi, dried banana chips, dried apricot, dried prunes, dried mango, dried figsDried
Speciality
Gluten Free, Suitable for Vegetarians, Suitable for Vegans
Storage instructions
Keep in a cool and dry place out of direct sunlight.
Packaging information
Plastic stand up zip lock pouch.
* Packed in an environment which also handles nuts, peanuts, sesame, seeds, gluten, soya, milk and sulphured fruits