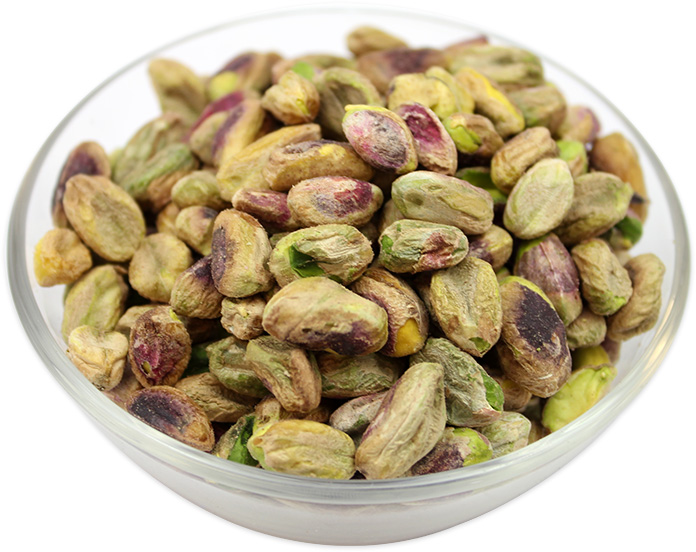 Raw Pistachios Kernels
Pistachio is a slow-growing tree, taking 5 to 6 years to produce the first crop of nuts. The first harvest produces about 2.3kg. Pistachio is alternate bearing meaning that the tree can produce one year a heavy crop, followed with a lighter crop the next year. Good irrigation and good pruning practices can reduce alternate bearing, but not avoid it completely. Male and female flowers are born on separate trees; a female tree planted alone will not produce nuts unless the male tree is growing nearby. For best pollination, plant a male upwind of every 10 to 15 female trees. They are currently being cultivated in large scale in the orchards in the USA, Iran, Greece, Syria and Turkey.
Health benefits : Wonderfully delicious pistachio nuts have long been revered as the symbol of wellness and robust health since ancient times. The kernels are enriched with many health-benefiting nutrients essential for optimum health. Pistachios are tiny, but pack a powerful nutritional punch. These small nuts contain protein, fibre and a wealth of vitamins and minerals. So these small nuts will help you in the production of haemoglobine, they are good for you skin and great for your eyes and boost your Immunity. They also have anti-inflammation properties and allow you to fight obesity and improve your digestion
Free shipping over €50
Big savings for larger quantities.
Spend €70 or more to get a 5% OFF Coupon for your next order.
% This product is VAT free.
WARNING: even though the farmers and manufacturers put all the efforts to remove the seeds, stones or foreign objects from the product, some may remain, therefore, it is your responsibility to check the product before consumption or production. We will not be held responsible for any damage incurred by any seeds, stones or foreign objects found in the product. ALLERGENS: packed in an environment that also handles nuts, peanuts, sesame, seeds, gluten, soy, milk and sulphured fruits.
Maria Doyle - Verified Buyer
Date: 09.09.2021
N - Verified Buyer
Date: 27.07.2021
Anna - Verified Buyer
Excellent quality, used the pistachios for baking, v well priced.
Date: 24.08.2020
Guido Ceruti - Verified Buyer
Date: 02.07.2020
Julie Mc - Verified Buyer
Great product, well packaged & super fast delivery. Highly recommended :)
Date: 22.06.2020
Anne Brooks - Verified Buyer
Date: 10.04.2020
Michael Brown - Verified Buyer
Date: 19.11.2019
Ss Cambridge - Verified Buyer
Date: 10.10.2019
Rhoda Kirwan - Verified Buyer
Date: 07.10.2019
W K - Verified Buyer
I am able to confidently say that the Pistachios are of the best quality of all products I have ever bought from Nutsinbulk. The pistachios kernels are large and of high quality.
Date: 01.09.2019
Ana - Verified Buyer
Date: 24.08.2019