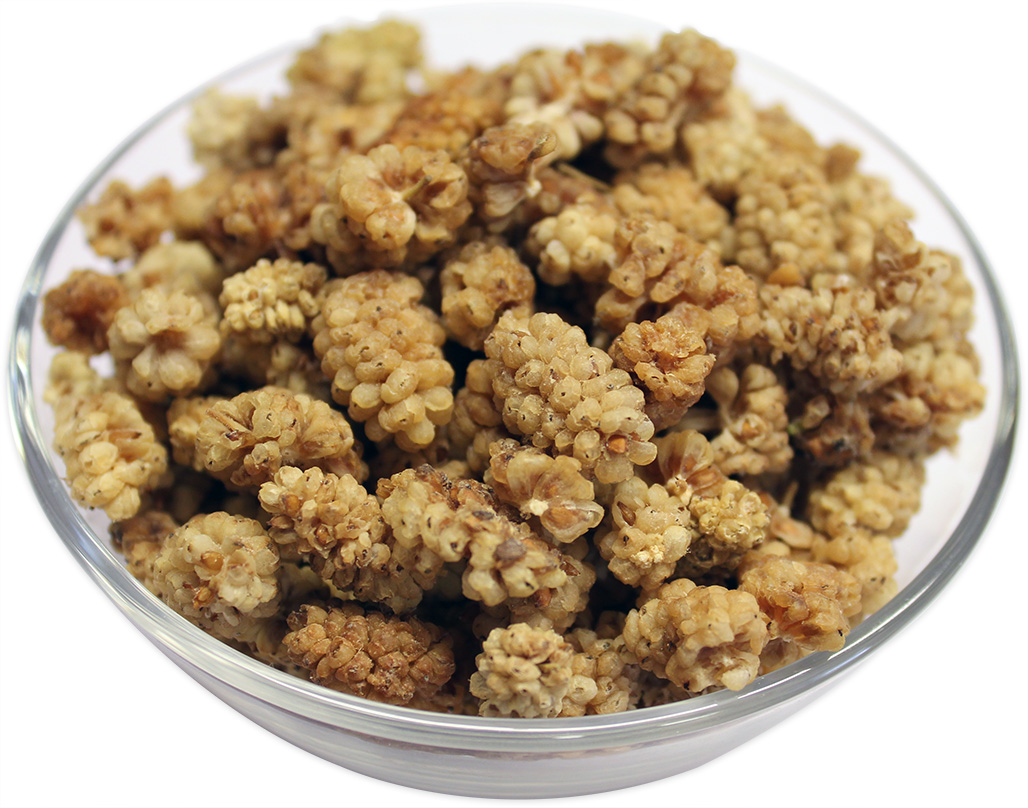 Dried White Mulberries
Mulberries are the fruits of mulberry trees (Morus), related to figs and breadfruit. Mulberry trees are traditionally grown for their leaves, mainly in Asia and North America, Because of their sweet flavor, impressive nutritional value and numerous health benefits, mulberries are gaining increased interest worldwide.
Chinese herbal medicine has used mulberry trees for thousands of years to treat diseases like heart disease, diabetes, anemia, and arthritis.
USES, Mulberries are a satisfying snack, and they can enhance many recipes. Try this sweet superfruit in trail mix, granola, yogurt, smoothies, and baked goods.
HEALTH BENEFITS, Beyond their sweet and delicate flavor, mulberries are an excellent source of nutrients including iron, calcium, vitamin C, protein and fiber. They also contain resveratrol, the anti-aging nutrient. Recent studies have shown that regular consumption of this special antioxidant may help promote a healthy cardiovascular system.
Free shipping over €50
Big savings for larger quantities.
Spend €70 or more to get a 5% OFF Coupon for your next order.
% This product is VAT free.
Out of Stock!
We can notify you when this product becomes available.
WARNING: even though the farmers and manufacturers put all the efforts to remove the seeds, stones or foreign objects from the product, some may remain, therefore, it is your responsibility to check the product before consumption or production. We will not be held responsible for any damage incurred by any seeds, stones or foreign objects found in the product. ALLERGENS: packed in an environment that also handles nuts, peanuts, sesame, seeds, gluten, soy, milk and sulphured fruits.
Nicki Petcher - Verified Buyer
These were a new try. Very different and a great change. Delicious.
Date: 01.07.2020
Almard - Verified Buyer
Date: 12.04.2020
Beata - Verified Buyer
Date: 09.10.2019
Ana - Verified Buyer
Date: 24.08.2019