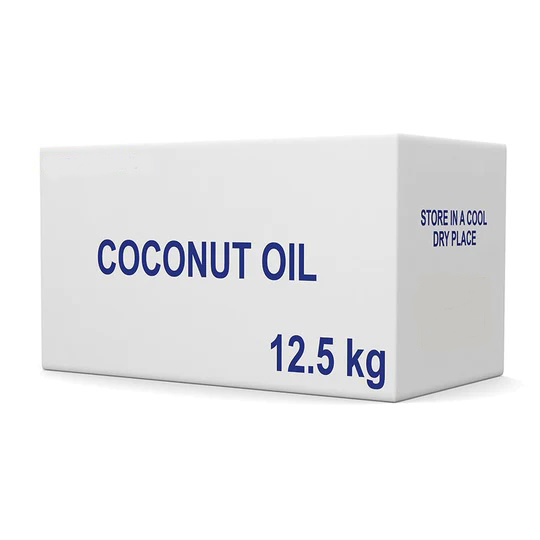 Odourless Coconut Oil (Bulk Size 12.5L)
Refined, bleached and deodorized coconut oil. It is considered a solid fat with melting properties near room temperatures. Considered to be a "solid fat" with melting properties near room temperatures. It has no taste, flavour or smell. It can be used as a product ingredient, lauric fatty acid products and to make soap. It comes packed in 12,5 litres plastic buckets.

Buy odourless coconut oil in bulk in small quantities or bulk. Our selection is available at retail or wholesale price. Odourless coconut oil in bulk is available in our store for wholesale or retail for delivery or collection. Nuts in Bulk Ireland is the best place to buy odourless coconut oil in bulk in bulk in Ireland.
Free shipping over €50
Big savings for larger quantities.
Spend €70 or more to get a 5% OFF Coupon for your next order.
% This product is VAT free.
Select the size to add into cart.
ALLERGENS: packed in an environment that also handles nuts, peanuts, sesame, seeds, gluten, soy, milk and sulphured fruits.
Recipes and common usage
Cooking
Frying
Fried eggs
Popcorn
Coconut cookies
Shrimp stir-fry
Deirdre Collins - Verified Buyer
Date: 26.06.2021
Ivana Spole - Verified Buyer
Fast delivery. Great value. Good quality. Will be back for more.
Date: 16.11.2019
Andrea Mc Namara - Verified Buyer
Whatever way this coconut oil is processed, it has a very unnatural smell, taste and colour. I realise it is supposed to be "odourless" which is why I bought it. I create a vegan dessert range and wanted to minimise the coconut taste in the range, but this oil is leaving a very unpleasant aftertaste, so I cannot use it at all. I regret having purchased this oil and will be reverting to the organic coconut oil eventhough it is almost twice the price.
Date: 16.10.2019